Let's explore some tea love stories! This post shares how tea has been a conduit for different kinds of meaningful relationships among members of the tea community.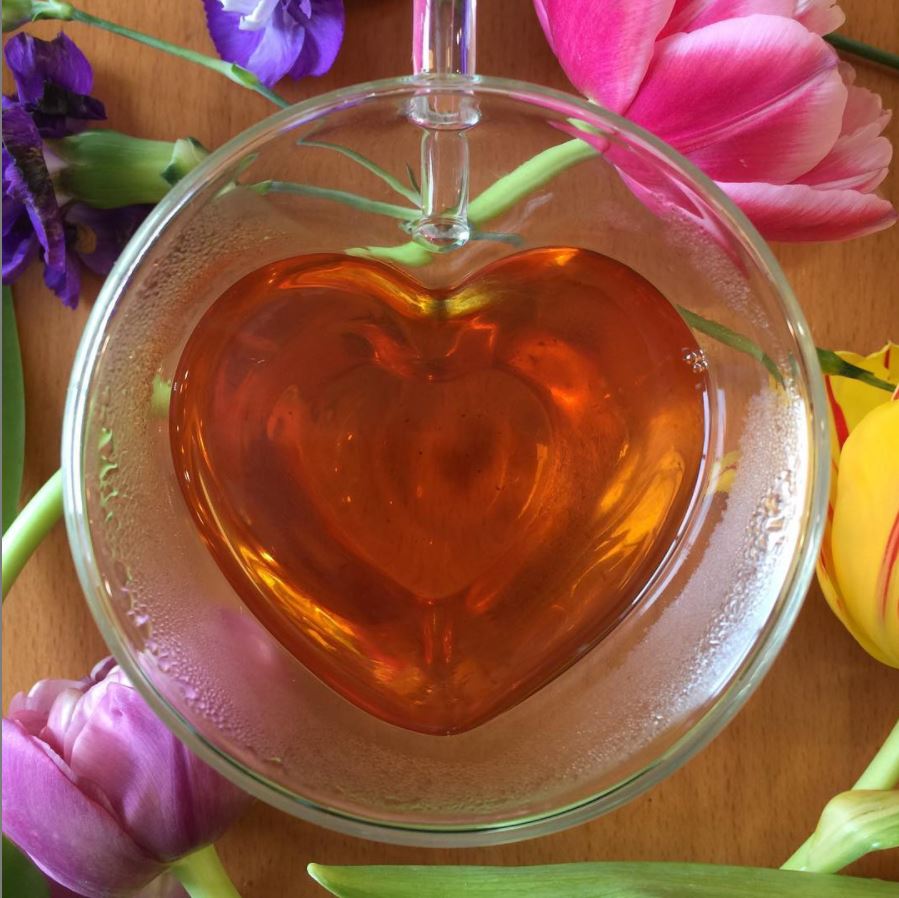 Marriages and friendships have been made and celebrated through a shared love of tea.
Tea, Love, and Marriage
The potter who created @HerbTheTravelingTeaTurtle of Instagram fame, Michell Hovey, first interacted with her future husband through a friend's Instagram live.* Michell said their tea love story began when Derek said he would be coming to Seattle for the Northwest Tea Festival and was looking for recommendations. Michell messaged him some suggestions and they "chatted a bit each day before his trip." At the festival, they shared tea and saw each other during his visit. Derek was living in a different state at the time. On day two of his five-day stay, they realized they were falling in love. A year-and-a-half later, he and Michell married each other! Awwwww.
Speaking of tea and marriage, friends and family members were aware of my love for tea when my husband and I became engaged. So, tea is also part of my love story. Friends threw us a lovely tea engagement party at their house. And, my family organized an afternoon tea for my bridal shower. At the shower, Black Currant was one of the teas served. I loved it! To this day, it is one of the few fruit-flavored teas that I enjoy. Every time I see it on a menu or take a sip, I remember that special time in my love story and the kindness of our friends and family.
Roam Love and Frens-ship
Speaking of beloved teas, Crimson Lotus Tea forms a thread that stitches together Michell, me, and several tea pet friendships!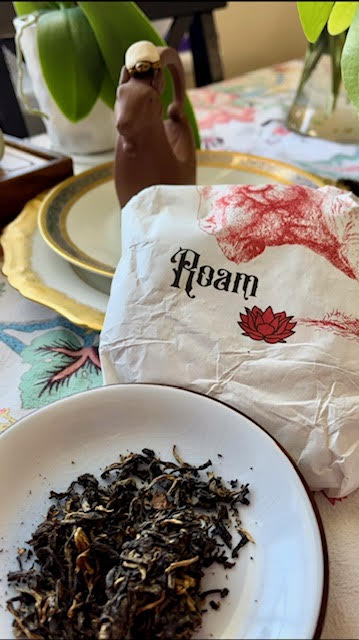 Michell told me that she and Derek first shared tea from Crimson Lotus Tea. I had heard of this tea company, but never had any of their tea until Michell generously sent me some of their Roam, a loosely pressed Dian Hong. She included it in a package along with Bonsai, an adorable tiny clay tea pet turtle she made. Bonsai and I were fast friends at first sight! It really was love at first sight. As for the tea, I enjoyed Roam so much that I began to purchase it from Crimson Lotus. This tea isn't showy. It's cozy and comforting, like your favorite cardigan on a chilly day.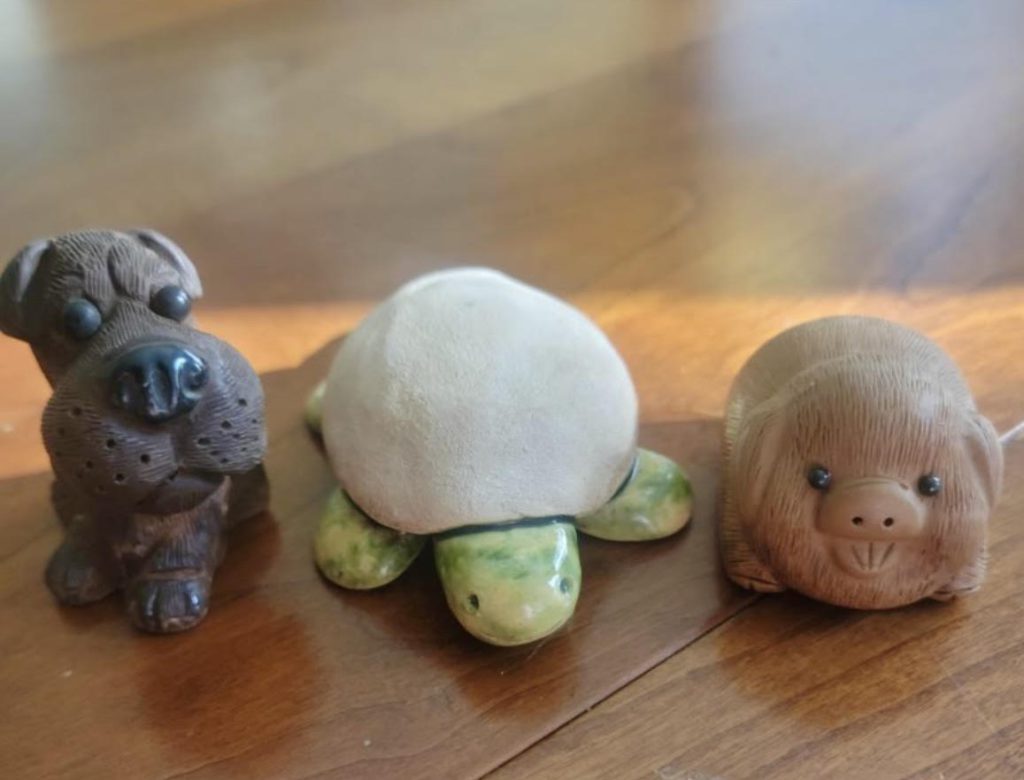 Another person is woven into this Roam tea love story–namely, the "hooman," as he would say, who runs the Instagram tea account @GeraldAndFrens. This Instagram account shares the shenanigans of his three tea pets, Gerald (a dog), Ringo (a pig), and Hops (a turtle). When Michell sent Hops (another tea pet turtle she made!) to him, she included some Roam tea. Like Bonsai, it was Hops' first tea. All the tea pets and their hooman reported loving "the cozy aspect of the tea and [how it] really helped create a sense of home and belonging."
Sharing Tea Love in Community
In addition to the love spread for Roam tea, @HerbtheTravelingTeaTurtle and his siblings are forging new tea and friendship love stories. They have created a community of friendship through mutual love of Herb and following his travels around the U.S. (and abroad). Likewise, tea lovers lucky enough to become a human companion to one of Herb's tea pet siblings tend to follow, get to know, and support each other, too. It's a lovely tea story!
I was honored, for example, to help Michell organize an online event in late January. About a dozen tea lovers joined to drink tea and share our stories and love for Herb and tea pets. Those who gathered were among former hosts of Herb and/or have one of his tea pet siblings. We're all part of Herb's bale now! (And some of us, including me, had to look up the word "bale!") It was lovely to honor Michell for all the tea and turtle love she has brought into this world and share our mutual love for our tea pets and their stories.
Bonding over Tea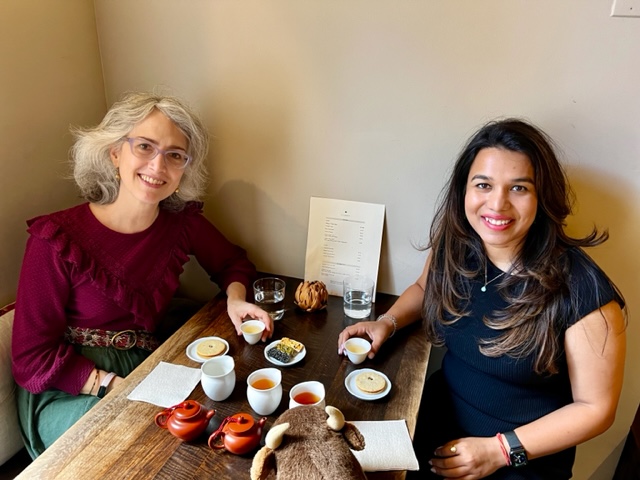 I've made so many connections, absolutely lovely friends, through the online tea community! One of the lovely tea friends whom I have also had the pleasure of meeting in person is Taniya from @YogaTeaPoetry. I first saw Taniya reading her original and powerful poetry at a Being Tea Women's Day event several years ago. Then, we started following each other and interacting a bit on Instagram. We also attended a lot of the same weekly Being Tea sessions and other events. Without planning, we both signed up for Being Tea Teacher Training at the same time! We spent seven months of roughly biweekly and very interactive classes together, plus attending each other's graduation class. And, we spoke a lot in between! Since then, she's joined me as a special guest or co-host on at least two virtual tea events.
This past autumn, luckily for me, Taniya traveled to New York City–just a short train ride away from where I live. And, we met at tea house. It was so nice to finally get to drink tea with Taniya in real life! (We've done so virtually many times.)
I'll leave Taniya with the last words here about tea and love. She dreamily shares: "If heaven exists, it's in a cup of tea. There is so much to learn and love with tea."
Do you have a tea love story–romantic, friendly, tea-pet related, etc.? We'd love you to share your story with us in the comments. 🙂
*You can read more about Herb the Traveling Tea Turtle at my post, "What a Tea Pet Can Add to Your Practice."
Interested in teas and tisanes particularly suited for Valentine's Day vibes, check out my post, "Valentine's Tea and Tisanes."